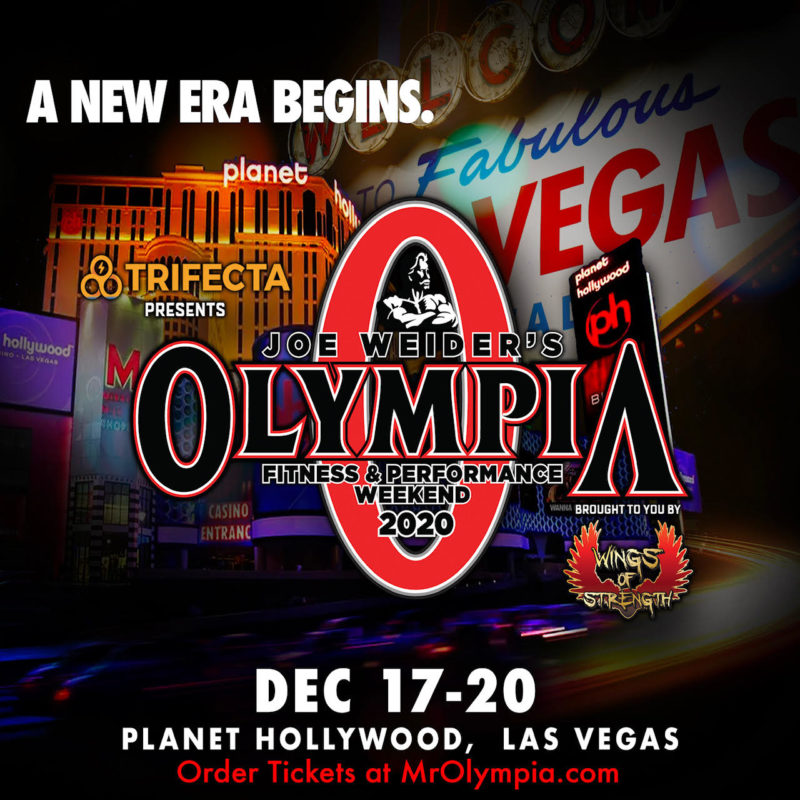 Many are calling this year's Olympia Weekend the most anticipated event the fitness industry has seen in a long time. After a global quarantine, Olympia organizers lifted the spirits of bodybuilding fans last month with the announcement that the event will take place and has been moved from its old home at the Orleans Hotel to a spectacular new home at Planet Hollywood Resort & Casino right in the heart of the Las Vegas Strip.  The 2020 Olympia is now set for the weekend of December 17-20th, a chance to bring the bodybuilding & fitness world together during the holiday season!
NPC News Online has just learned that VIP Packages as well as individual Finals tickets have gone on sale at MrOlympia.com. Attendees this year will get the chance to experience the Friday & Saturday evening FINALS at the Zappos Theater, one of the top entertainment venues in Vegas, located inside the Planet Hollywood.
Olympia President Dan Solomon shares, "One of the best things about our move to the Zappos Theater for the finals is the view from each seat. This is a world class venue and the view from each seat gives fans a chance to experience the evening shows in a completely different way.  Our VIP packages will likely be sold out in just a few weeks."
Highlights of this year's Olympia include the return of Flex Lewis, Brandon Curry's bid for a second title, the emotional farewell of the legendary Dexter Jackson, the renewal of the Ms. Olympia, some epic battles in the Men's & Women's Physique Division, one of the most exciting Bikini Olympia showdowns in years, an up for grabs 212 showdown, along with some serious competition in the Classic Physique and Figure Olympia divisions.  The 2020 Olympia also marks the return of Oksana Grishina and Adela Garcia, giving way to one of the greatest Fitness Olympia showdowns of all time. There are also rumors of more big names making their way to compete for record prize money.
Trifecta presents Joe Weider's Olympia Fitness & Performance Weekend brought to you by Wings of Strength on December 17-20, 2020. Secure your VIP Packages or individual Finals tickets now by using this link https://mrolympia.com/ticket-type