OFFICIAL NOTICE!
Per the @arnoldsports Offices To #ifbbprofessionaolleague President Jim Manion, ALL @ifbb_pro_league COMPETITIONS WILL GO ON AS PLANNED!
YES!
Men's Bodybuilding
Classic Men's Physique
Men's Physique
Men's Wheelchair Bodybuilding
Women's Physique
Figure
Fitness
Bikini
Good Luck To All The Athletes!
@npcnewsonlineofficialpage @npcnewstv @npcfitbody @npcworldwideofficial @aroundthenpc_jm @frank_sepe @t_manion @bobworldwide
#npcnewsonline #ifbbproleague #npcworldwide #arnoldsports #arnoldclassic #npcnewstv #npcfitbody
—
---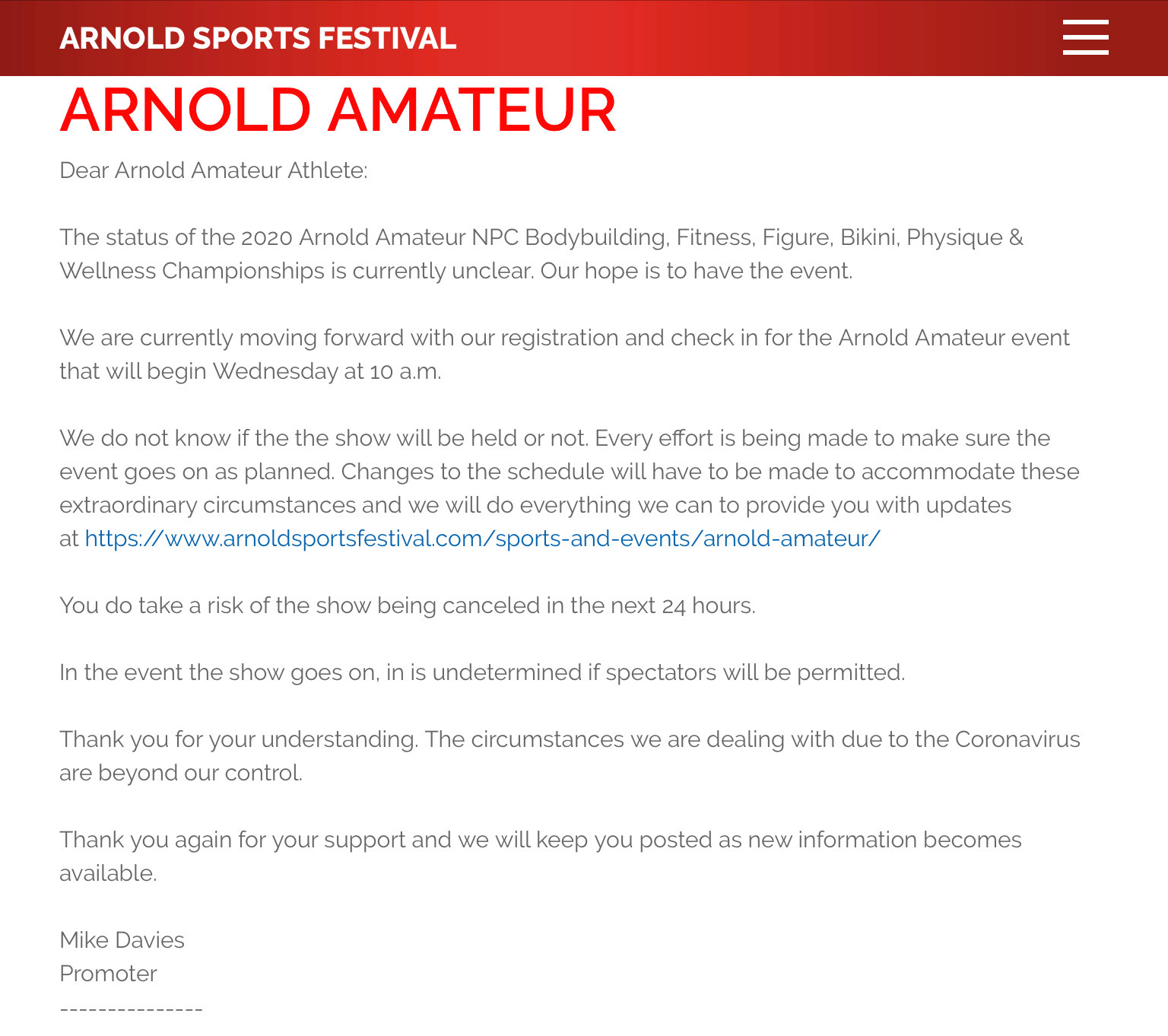 OFFICIAL NOTICE FOR NPCWORLDWIDE ARNOLD AMATEUR
PLEASE READ CLOSELY!
As of now the @npcworldwideofficial @arnold_classic_amateur will begin at 10 a.m. on Wednesday as scheduled. According to this @arnoldsports release by co-promoter @mikedaviesfitness the contest is only happening 50-50 & there is a chance it could still be #canceled .
Full statement above!
@npcnewsonlineofficialpage @npcnewstv @npcfitbody @npcworldwideofficial @aroundthenpc_jm @frank_sepe @t_manion @bobworldwide #arnoldamateur #ifbbproleagueproqualifier
#npcnewsonline #ifbbproleague #npcworldwide #arnoldsports #arnoldclassic #npcnewstv #npcfitbody